In Honor of Our Veterans
Shaklee welcomes our veterans to join us and create their own Shaklee Effect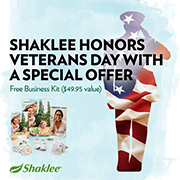 Shaklee offers a free distributorship (Distributor Welcome Kit, $49.95 value) to veterans, including active military, to thank and honor them for their service to our country. We must recommend the person or couple who wish to take advantage of this special offer and walk them through the process of applying through Shaklee Field Support.
This offer (originally valid from November 17, 2014 through March 31, 2015) has now been extended indefinitely, with proof of military service. Supporting documentation must be supplied. We can provide a fax number for this purpose to qualified candidates.
Please be aware of policies regarding operation of a Shaklee business on military bases. It's required that a Shaklee Distributor seek and obtain the written permission of their base commander before beginning to operate a Shaklee business on base.
This offer is not transferable to other distributor offers or kits. This offer is valid in the U.S. and Canada. Not available online.
Q&A
Q: Who can take advantage of this offer?
A: Veterans, retired and active duty military personnel, including military spouses.
Q: Can a current Member upgrade free with this offer?
A: Yes. Field Support needs to handle this redemption, but we can work with the existing Member and Field Support to request the free upgrade.
Q: Can the military personnel I sponsor operate a business on base?
A: Military personnel and their families may build a Shaklee business on-base, provided that they have the written permission of their Commanding Officer. Once approval is granted, military personnel must mail or fax a copy of the approval letter to Shaklee Field Support at 1-925-924-3888.
The no sponsoring activity flag will be removed only if Shaklee receives a letter granting approval from the Military. Otherwise, this restriction will remain in place.
Shaklee allows shipments to military personnel stationed overseas with APO/FPO (overseas military) addresses via the Shaklee Order Entry system. You can also sponsor new Members with an APO/FPO address.